hushicho
Welcome to the official site of creative demon hushicho!
You'll find links to everything here, so make yourself comfy!

About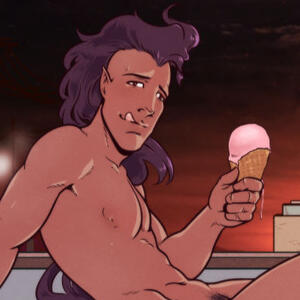 Artist and author, gay/bl webcomic creator, voice-over actor, tirelessly fighting censorship and stupidity. It's an endless fight.

I'm Hushicho (不死鳥), creator of the long-running, highly-acclaimed series Incubus Tales and prolific visual artist, author, and voice-over artist.

I'm a fighter against censorship, and I have additionally long championed causes such as gay rights and equality, animal rights, and environmental awareness.

You can check out my comics online, at a variety of hosts. Note that all of my work may contain mature content, so these comics may not be suitable for all audiences or venues.
Comics
Incubus Tales
The Magical Adventures of Kirke Ketterley
Space Daddy Adventures
Demoniac Verse
Coven: Season of the Witch
Rates
All rates are starting rates, for a single figure and simple background. All rates increase with complexity, such as multiple subjects, complicated positioning, or extremely detailed design.

Finished Sketch - $15 and up
Original Artwork - $30 and up
Original Comic Pages - $75 and up
Black and white, with screentone at my discretion

Audio Work - $30 and up
Do you have a special story you'd like me to read? I can do that! Rates increase with length of story; starting rate is 3000 words.

Special Rates
It's usually easier for me to work with my own characters, so I'll give you a great deal if you want artwork of them.
My Characters Artwork - $25 and up
My Characters Comic - $100 and up, starting with two pages

The Details
Things I Won't Do: Graphic violence, death, and pregnancy.
Things I Will Do: Just about everything else! I'm fine with most things, and I'm totally okay with nudity and adult content, as well as a wide range of kink.

I have to note that for whatever reason, I can turn down something. Usually it's because I just don't think I could do it well enough. We can always try something else!

The Process
1. You mail me with your request.
2. I reply with a cost estimate.
3. You send payment.
4. For visual art: I provide you with a rough pencil layout.
5. You approve it or ask for changes.
6. Once it's approved, I ink and finish (including color if you got it).
7. I send you the finished work.

Quick and easy! Be very clear with anything you especially want in the picture or any changes you need. Too many changes may cost extra.

Legal Stuff
Rights and Uses:
These rates are personal, not commercial. Let me know if you need commercial rates, like if you're going to use my work for profit, for a logo, print, t-shirt, or put my work in for-profit publications.

I usually provide two or three digital files: one is full-sized and print-ready. The other file or files are reduced in size, for easy sharing and showing!

All characters and situations involved are copyright their creators, but the artwork is mine.

I typically post the work I do and may include it in my portfolio. Let me know if you'd prefer to be anonymous if I do a shout-out.

I may use my work for commercial purposes.

Responsibilities:
By contacting me and contracting me for work like this, you're not only agreeing that you're legally allowed to do that, but you're also saying that I am released from any and all responsibility of anything that may result, directly or indirectly, from you doing that. In other words, I'm just an artist doing work for you. If you get a pic of Dracula shaking his moneymaker on a stripper pole and your friend hates Dracula and has a falling-out with you over it, well, that's not my fault. I'm responsible for doing the work for you that you pay me for, and that's all.

But I'm a good listener, so if you need to talk to someone about your Dracula-hating buddy, go right ahead!
Contact
If you're interested in contacting me, please try email first.
---